by Donald Theriault - 8:09 pm PDT
Discuss in talkback! Source: Nintendo
The savings from one can pay for the other... in a fashion.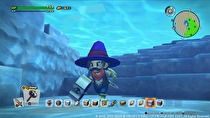 Dragon Quest Builders 2 had DLC in Japan, and it will be coming to the West quickly.
In addition to confirming July 12 for the sequel to last February's building game, Nintendo has announced the release plan for add-on content. A free Knickknack Pack will release on July 26 with three recipes,... Read more...