by Neal Ronaghan - 7:10 am EST
Total comments: 1
This soft and comfy chair is a little small but is still one of the best bean bag chairs I've ever sat in.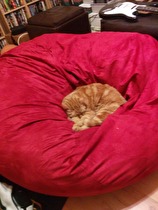 A few years back, I reviewed the Sumo Sultan, a mammoth beanbag chair from Sumo Lounge that was, back in my post-college haze, more comfortable and bigger than my own bed. The Sultan is wonderful but unwieldy if you don't have the space. On the other hand, the Sumo Gamer, which I've been kicking... Read more...