We're doin' it live, for the kids, all over again! UPDATE: The full recording is now available -- all 9 hours!
We're back with another mega-podcast for charity, all performed live with many opportunities to interact with the NWR crew and our special guests. Please consider supporting this event with a generous donation to Child's Play -- all money goes directly to the charity (all we do is track it through a service recommended by Child's Play). When certain amounts are reached, we'll unlock another hour of exciting live content! Check out the incredible results of the previous editions of this event -- in 2010 and 2011.
The show is over, but you can hear the magic with the three-part recording. Subscribers to Radio Free Nintendo will get it automatically; otherwise, just download with the links below!
Part 1 - Wii U, Metroid Prime, Eurocast (Enhanced AAC or MP3)
Part 2 - Radio Trivia, Nintendoaire, Famicast (Enhanced AAC or MP3)
Part 3 - NFR's Wait Wait, 3DS Report Card, Shenanigans (Enhanced AAC or MP3)
JIGGAWHAT: An epic Nintendo/gaming-themed live audio "podcast" telethon
JIGGAWHY: For Child's Play, a charity that provides toys and games to sick kids
JIGGAWHO: Nintendo World Report staff, special guests, and you!
JIGGAWHEN: Saturday, November 10, 2012 from 12:00pm Noon Eastern (9:00am Pacific, 5:00pm GMT) until...?
JIGGAWHERE: Right here, so bookmark this page! Check back soon for the audio stream, live chat, and donation link.
JIGGAHOW: Magic of the Internet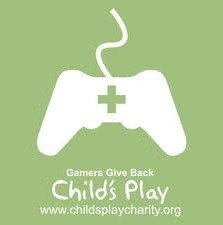 Here at Nintendo World Report, we've long been supporters of Child's Play, the fantastic charity that provides toys and games to hospitalized kids. If you're not familiar with Child's Play, check out the official website and listen to Jonny's RFN Special interview with Mike Krahulik, co-founder of the charity (and Penny Arcade), way back in 2007. So, when our old friend Karl Castaneda brought us an idea for doing a special, live-streaming podcast to support Child's Play, we got excited. Not only can we do things live that don't make sense in a recorded show, like real-time listener interaction, but the lack of editing means there are fewer constraints on how long the show can run. Then we thought... why not do it telethon-style, all day long? It's been a great success so far, and this year we're hoping to raise more money than ever for this excellent charity!
***If you are new to NWR podcasts, please be advised that the show contains explicit language. We're doin' it for the kids, but the show itself is for grown-ups.***
Content Program and Fundraising Goals
(Note: Schedule and guests are subject to change before and even during the event. Each hour of content will be unlocked when the corresponding donation goal is met. Fundraising goals are totals; i.e. all previous donations are counted toward the amount. Pacific time zone is three hours earlier than the times shown below!)
12:00 EST - Wii U Hype Train w/ Brad Shoemaker, Jeff Kalles, and Jon Lindemann (Free)
1:00 EST - A Decade of NWR's Game of the Decade: Metroid Prime feat. Garnett Lee & David Ellis ($500)
2:00 EST - The Eurocast: It Came from Across the Sea ($1000)
3:00 EST - Radio Trivia Live -- name that game music to win prizes! ($1500)
4:00 EST - NWR Connectivity presents Who Wants to Be a Nintendoaire? ($2000)
5:00 EST - The Famicast: Live from Japan featuring 8-4 Play ($2500)
6:00 EST - Wait, Wait, Don't Tell Me w/ Nintendo Free Radio and P1P's CJ and Phil ($3000)
7:00 EST - 3DS Report Card w/ Craig Harris and Billy Berghammer ($3500)
8:00 EST - Shenanigans w/ your live calls! ($4000)
Special guests include:
We will make every effort to obtain a clean recording of this live event, but due to the complex technical nature of doing so, we cannot guarantee a recording will be available later. Please plan to attend the event live if you want to be sure!
Special Prizes - Listen to the live telethon for details on how to win. Very special thanks to Carmine Red!
Gold Nunchuk (Rare, Mint Condition, Out-of-Stock Club Nintendo Award!)
Diamond Trust of London (Region-Free, World's First Kickstarted DS Game)
Hyrule Historia **Japanese Edition** (Zelda 25th Anniversary Art Book, in Like-New Condition)
Set of TWO $20 3DS eShop Cards (North American, total value $40 USD)
25th Anniversary Legend of Zelda Wii/DSi 2000 Points Card (North American, Limited Edition)
Other Prizes - Winners may choose any single item from the lists below! No donation required to win.
Games (Region is North America unless otherwise noted!)
Fishing Master (Wii - New)
Donkey Kong: Original Edition (3DS eShop Code)
3D Classics: Urban Champion (3DS eShop Code)
Penguin Patrol (3DS eShop Code)
Spot It! Mean Machines (3DS eShop Code) - 3 in stock!
Skulls of the Shogun (Xbox Live Arcade Code - Thanks to 17-Bit!)
Collectibles (We'll ship anywhere otherwise noted!)
8-Bit Raccoon Mario Acrylic Painting (by Andy Goergen)
17-Bit T-Shirt (size XL)
Your Choice of Gaming Shirt from bitmap'd
Animal Crossing "Booker" Plushie (7" tall)
Wind Waker "Link" Plushie (7" tall)
NSMB Wii Jigsaw Puzzle (550 pieces, 18" x 24")
Small Tektite Meteorite Rock Specimen (2 in stock!)
Nyko 3DS Power Pak Battery Accessory
Diamond Trust of London Soundtrack (Download Code)
Disgaea "Flonne" Figurine
Bleach Figurine
Spectrobes novel
Mario Glow-in-the-Dark Baseball Cap
Street Fighter Baseball Cap
Tales of Symphonia: DotNW T-Shirt (sizes L and XL - one each in stock!)
Mario Sports Mix T-Shirt (Size XL)
Conduit 2 T-shirt (Size M - 3 in stock!)
Disney Guilty Party T-Shirt (Size XL)
Cartoon Network Punch Time Explosion T-Shirt (Size XL - 2 in stock (one Dexter, one Samurai Jack))
Call of Duty 4: Modern Warfare T-Shirt (Size XXL)
MotoHeroz T-Shirt (Size M)
Goldeneye 007 T-Shirt (Size L)
Street Fighter T-Shirt (Size S)
Professor Layton and the Last Specter T-shirt (Size L)
Ways You Can Help:
Donate! This is the most direct way to help meet our goals for the event and support Child's Play. You can donate money before, during, and for a couple weeks after the live event.
Promote! If you're part of a community or group of friends who enjoy Nintendo, please help us spread the word and explain what's so great about this event. (Always be respectful -- don't spam on our behalf.)
Participate! Listen to the live event, play in the chat room, and call in for interactive segments -- you'll make the event better for everyone!
Prizes! If you've hit the limit on donating money but have some special gaming swag or digital game codes to give away, we could use them as prizes. Please email us with any offers.