Five days of shadowdrops and other reveals.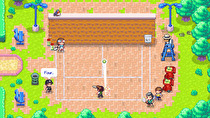 Nintendo has posted a series of videos this week advertising new indie titles - including multiple titles available the day of the videos.
Day 1 (Monday)
Deckbuilding roguelike Floppy Knights revealed its 2.0 update alongside a Switch release that day. The update added additional playable characters, new cards, and new stages.
The next title from Paratopic developer Arbitrary Metric was announced as Roman Sands: Rebuild, currently slated for a summer 2023 release. A horror adventure, it claims to be set "after the end of time".
Dog photography game Pupperazi confirmed a Switch version, slated for release in "early 2023".
Action RPG Mortal Shell launched a "Complete Edition" on Switch on Monday, including the main game and two post-launch expansions.
Day 2 (Tuesday)
3D exploration game The Gecko Gods was confirmed for a 2023 launch; a gecko can climb walls and stick to ceilings in order to solve puzzles.
Launching the day of, The Captain is a side scrolling exploration game which offers multiple endings to any encounter.
Risk of Rain Returns, a remastered version of the classic roguelike, will launch in 2023.
The Punchuin is a match-3 puzzle game developed by Shin'en Multimedia (Fast RMX, The Touryst) that launched that day. Although similar to Wario's Woods, the puzzles are objective based such as clearing sets of specific colors.
Day 3 (Wednesday)
Previously released on PC, Potion Craft: Alchemist Simulator was announced for Switch; the potion designer will launch in spring of 2023.
Sonority, a music-based 3D platformer, launched the same day.
Tin Hearts, a platformer centered on wind-up dolls, confirmed an April 20 launch on Switch.
Also launching the day of was Sail Forth, a sailboat-based adventure game.
Day 4 (Thursday)
Melatonin, the Rhythm Heaven-inspired game about dreams, came out the day the video released.
Time travelling sidescrolling action game Afterimage was shown alongside an April 25 launch date.
Surreal "nod and shake" first person adventure Smile for Me will launch in the spring.
The newest title from developer Necrosoft (Gunhouse, the upcoming Demonschool) dropped the day of as Hyper Gunsport, a four player game best summarized as "volleyball with guns".
Day 5 (Friday)
Action (shooter) roguelite Dust & Neon was shown with an "early 2023" release window.
Undying, an isometric adventure game with a early-3D art style, will release in spring 2023.
A new trailer for Sea of Stars (the RPG from the developers of The Messenger), but no further release information was given beyond "2023".
The sole shadowdrop of the day and last of the week was Sports Story, which was announced for "December" release in last month's Indie World presentation and is the multi-sport follow up to Switch year one hit Golf Story.