by Jordan Rudek - 12:00 pm EDT
Discuss in talkback!
Part high school sim, part RPG, all heart.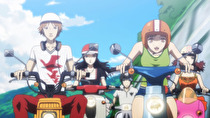 Atlus has been nothing short of prolific in their development of RPGs, especially those of the turn-based variety. None, however, have reached the heights of popularity like their Persona series, games featuring a protagonist who transfers to a new school, befriends a bunch of his or her classmates,... Read more...