by Alex Culafi - 1:35 pm EST
Total comments: 1
Poké Fan Alex offers his take on Pokemon Legends: Arceus and the Gen 4 remakes.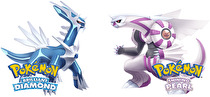 In celebrating Pokemon's 25th anniversary, The Pokemon Company announced two new core titles set to release on Nintendo Switch in the next year or so.
The first was a pair of remakes: Pokemon Brilliant Diamond and Pokemon Shining Pearl. They're remakes of 2006's DS titles Diamond and... Read more...