by Jordan Rudek - 11:54 am EST
Discuss in talkback!
An indie darling whose robust tale made a massive shovel-shaped imprint.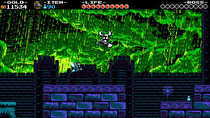 One of the most successful video game Kickstarters of all time, Shovel Knight pulled a shovel from a stone to become gaming royalty. Eventually spinning out into four total campaigns, the Shovel Knight Treasure Trove package contains dozens of hours of quality action platforming. But I want to focus... Read more...