by James Jones - 4:19 pm EDT
Total comments: 7
This is no longer a joke, lives are on the line. Mine.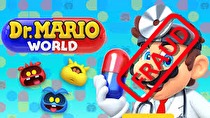 Dr. Mario World is the worst kind of mobile game. No, I don't mean a mobile game with spinners, gauges, and loot boxes. These are moral inadequacies that have their own inquisitors and shall not peddle my expertise where it is not needed. It is also true that Dr. Mario World is now dealing in medical... Read more...