by Neal Ronaghan - 4:41 am EDT
Total comments: 2
Arms and Street Fighter II are the odd couple in some respects, but the pair have more in common than I thought.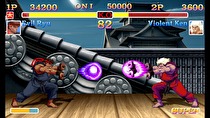 I played two games at PAX East 2017 one right after the other that were more similar than I would have guessed. One was Ultra Street Fighter II, the retro-stylish Switch port of the classic fighting game. The other was Arms, Nintendo's weird motion-controlled fighter. Now it's not crazy to come... Read more...