by Neal Ronaghan - 1:12 pm EDT
Total comments: 2
After two weeks exploring, catching, and battling, here are Neal's thoughts on the mobile sensation.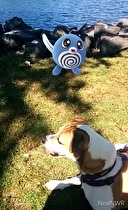 I've spent the past two weeks of my life in a haze of Pokémon. I've barely touched any other games. Almost anything social I've done has involved catching Pokémon or capturing gyms. I went on a bike ride - that involved stopping every mile to catch a Psyduck or a Slowpoke. I went out to dinner... Read more...