by Justin Berube, Neal Ronaghan, and Donald Theriault - 2:22 pm EDT
Total comments: 19
The NWR staff chats about the fourth wave of Amiibo.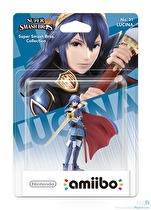 Today is a big day for Nintendo fans as the fourth wave of Smash Bros. Amiibo figures are available in North America. If you're lucky, you can go get Pac-Man, Charizard, Wario, Lucina, Robin, Greninja (only at Toys"R"Us), Jigglypuff (only at Target), Ness (only at GameStop), Inkling Boy, Inkling... Read more...