by Justin Baker - 7:35 pm EST
Discuss in talkback!
We revisit Sumo's Sultan to see how it holds up to hours upon hours of gaming.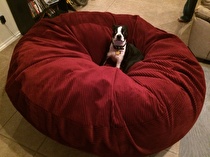 I've always loved bean bags. As a young gamer they were a great way to get up close to the action on screen while maintaining maximum comfort with an unreasonably short controller cord. As I got older I ended up veering away from them as my primary gaming chair because of the advent of reliable wireless... Read more...