by Alex Culafi - 5:37 pm EST
Total comments: 36
At least they didn't end it by ruining Mario again.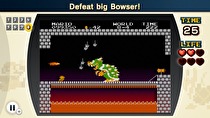 As a Nintendo fan who is often extremely critical of Nintendo, I had pretty low expectations for this monthly Direct (at least, they seem to be monthly now). I expected the big Nintendo Wii U Direct to come in January, I expected no more than one announcement, and I expected Mario Golf and Kirby to... Read more...