by Neal Ronaghan - 8:26 pm EDT
Total comments: 11
We have solidified release dates for Kirby's Pinball Land, Wario Land, and more a month in advance.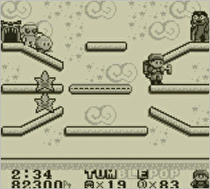 Nintendo of America dropped some Virtual Console knowledge during last week's Nintendo Direct: during the month of July, every week will feature two Virtual Console releases. Hell, they even gave release dates for six games!
That's right. The company that released two 3DS Virtual Console games in the first five months of the year is promising 10 in one month. In case you missed it, here's the list of games coming out:
Read more...