by Neal Ronaghan - 7:34 am EDT
Discuss in talkback!
Nintendo might have finally figured out how to do Comic Cons after a few years of struggling.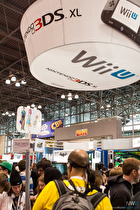 I've been to four New York Comic Cons as a staff member at Nintendo World Report now. Over that time, I have seen a blossoming of Nintendo's appearance at the event, beginning with nothing and evolving into a spectacle that involved two show floor booths and one off-site event. It took longer than some companies, but Nintendo of America seems to understand how to do these fan-focused conventions now.
Read more...