Let's celebrate the Mario Game & Watch with the sad, cold reality of the world right now. Happy 35th!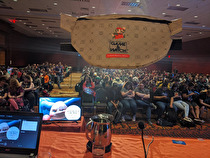 While pre-orders seemed to have been confusing, the Super Mario Bros. Game & Watch has arrived. Best of luck trying to find out when your retailer of choice tosses them up for pre-order online. Please be safe in your travels to do in-store or curbside pick-up. Wear a mask. Do your thing.
Nintendo sent us a Game & Watch package that includes the neat little curio. We'll have a fuller review of the collectible soon. Sure enough, it certainly plays Super Mario Bros. 1 and what we Americans know as Super Mario Bros.: The Lost Levels (aka Super Mario Bros. 2 in Japan). Ball, a game I know best from the Game Boy Camera but has origins tied to the Game & Watch products of the '80s, is also playable. It's a cute little thing. The ticking of the watch part of the Game & Watch is going on behind me as I type. As of this writing, my toddler son hasn't seen it. Not sure if he will be down with playing Ball or start to find more words and tell me this is old and lame.
Part of Nintendo's press kit for the Game & Watch included some other fun swag - there's a shirt and a reusable bottle - but I'm here writing for one reason. Nintendo sent me a Game & Watch-themed fanny pack. Naturally, I tossed this sumbitch on around my waist the minute I saw it. If wearing a gold-tinged Mario-emblazoned fanny pack is wrong, I don't want to be right. A wave of sadness struck me though as I wore it: where the hell am I going to wear this thing?
I know it's a point of consternation as to whether or not we the game-reviewing populace should reference the way the world is in articles. Honestly, I could sum up this Game & Watch as a decently affordable collectible that seems really sharp. I could just be like "listen, you probably already know if you want this. Just get it. You'll have fun playing through the game once and having it around as a conversation piece when friends can come over your house again later this decade."
So in advance of our fuler Game & Watch coverage, here's a list of places I would like to go with this silly fanny pack:
A friend's house: Listen I won't be picky. Eight months into this world-altering pandemic and I think I briefly opened a friend's door to let him know I dropped off a tool for him to borrow. Are we friends? I'll wear this fanny pack into your house when it's safe.
PAX East or South 20XX: Being at PAX East 2020 (aka the last in-person gaming event known to man) was surreal. It's a miracle that the famous illness-spreading convention wasn't a super-spreader event. Anyway, the next time I can go to a PAX, I'll wear this fanny pack. Maybe if we get to do another game show panel at an event like this, I'll give it away.
A city: I live near New York City and Philadelphia and while I wouldn't consider myself a fan of hanging out in cities, it'd be fun to go visit one again. Remember Broadway? Will Broadway even exist after this? I hope so. I saw that Spider-Man musical in previews on Broadway and it was real weird. I'd totally wear this Mario fanny pack to the Spider-Man musical.
Lambeau Field: This might come as a shock to some people, but Nintendo World Report is a site founded by a Green Bay Packers fan (Hi Billy!) and currently owned by a Green Bay Packers fan (that's me!). This is a Pro Packer Nintendo website. Apologies to those who cheer for other teams. Anyway, I'll wear this alongside some Packer gear. The gold color vaguely sort of works with Packers colors, I guess.
Picking up a next-gen console: I got an Xbox Series X in the mail this week and once I got through the harrowing pre-order process, it was pleasant. I do miss actually going to launch events and waiting in lines with people to get things we're excited about, though. So, when the Switch Pro or the PS5 Slim or the Nintendo 4DS come out in the future, I'd love to rock this fanny pack to my local store (if those still exist post-pandemic) to pick one up.
The movies: In an alternate reality, we are all talking about Marvel's Eternals and what cosmic chicanery that set up for Phase 4 of the Marvel Cinematic Universe. But we're not. Instead we're nervously excited for WandaVision when it debuts in January and hopefully doesn't get delayed further to account for the film industry likely still being in shambles in 2021. Anyway, the last movie I saw in theaters was nearly a year ago and someday, I'd like to go to the movies again. I would wear the Mario fanny pack to the movies.
Large family gathering: Most of my family would raise an eyebrow at me wearing a fanny pack, but whatever. I'd happily celebrate a birthday or a holiday with my extended family when it's safe to do so.
Super Nintendo World: The best place, naturally, to rock a Mario fanny pack is at the future Universal Studios Super Nintendo World that was supposed to launch in the summer of 2020 in Japan and hit the USA sometime after. I was waiting for more specific details to be announced for the Florida iteration of the park, but that's currently indefinitely delayed and well, I ain't exactly hungry to go in large crowds these days. But I'll keep this fanny pack safe so I can one day go to Super Nintendo World and wear it. Worse case, I'll will it to my child on the condition that he has to wear it to the Mario theme park.