Come on, no stamina meter, no whammies...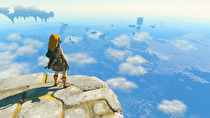 The longest look at the gameplay of The Legend of Zelda: Tears of the Kingdom will air tomorrow.
Nintendo have announced a 10 minute gameplay video for the May 12 release tomorrow; it will be live on the company YouTube account at 10 a.m. ET / 7 a.m. PT / 1600 CET. The video will be presented by Zelda series producer Eiji Aonuma.
Although brief clips of gameplay were included in prior trailers they did not include heads-up display elements.
Join The Legend of #Zelda series producer, Eiji Aonuma, for roughly 10 minutes of gameplay from The Legend of Zelda: #TearsOfTheKingdom on 3/28 at 7:00 a.m. PT on our YouTube channel.

▶️ https://t.co/uMUCfVjFQL pic.twitter.com/y49N4jRUTz

— Nintendo of America (@NintendoAmerica) March 27, 2023