How ironic that on the week of the Switch's birthday, it's getting the omae wa do shindeiru treatment. (NANI????)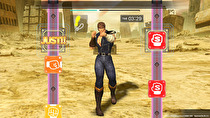 Things we missed last week: Taito's Don Doko Don was the ACA release.
It's the Switch's birthday this week, and surprisingly there isn't a first party game on the list unless you count the Fitness Boxing series. But even the new entry, Fitness Boxing: Fist of the North Star, is self-published by Imagineer. Also, I love how this series has gone from some of the OG kusoge to a musou, then it got the Yakuza / Like a Dragon treatment, and now it's going into fitness games. Other major releases this week include Void Terrarium 2 - as per policy, we don't record the actual name in the database after the Bobby Tables incident - and an indie release that might actually justify a reference to "Triple I" in A Fox and His Robot.
Titles on the smaller side I'm watching include the long-awaited Brok the InvestiGator and The Pillars of the Earth - whose story was apparently written by an award-winning British author. Hey, it worked for Elden Ring, didn't it?
North America
Retail
Void Terrarium 2 (US$39.99/C$49.99: Tuesday)
Digital
A Fox And His Robot ($59.99/$79.99: Wednesday)
Fitness Boxing: Fist of the North Star ($49.99/$64.99)
Brok the InvestiGator ($24.99/$29.99: Wednesday)
Disaster Detective Saga: An Indescribable Mystery ($24.99/$32.50: Friday)
Green Soldiers Heroes ($20.00/$26.67: Wednesday)
Ken Follett's The Pillars of the Earth ($19.99/$25.99: Wednesday)
The Smile Alchemist ($19.99/$27.99)
DARQ Ultimate Edition ($19.99/$23.99: Friday)
Lucy Dreaming ($18.99/$23.99: Tuesday)
Afterthought ($15.99/$19.99: Tuesday)
Rytmos ($15.00/$20.00: Tuesday)
Meg's Monster ($14.99/$19.49)
Live Factory ($14.99)
Ala Mobile ($14.99/$19.99: Friday)
The Atla Archives ($14.99/$19.90: Friday)
Dream Park Story ($14.00/$18.00)
Dungeon Core ($12.99/$16.99)
Notes + Stickers ($12.99/$17.46: Friday)
Ruku's Heart Balloon ($10.99/$15.06: Friday)
Aery - Calm Mind 3 ($9.99/$13.99)
Vanaris Tactics ($9.99/$12.99)
Choice of Life: Middle Ages 2 ($6.99/$8.99: Tuesday)
Pretty Girls Breakers! PLUS ($6.99/$8.49)
Gunman Tales ($6.99/$8.99: Friday)
Give Me Toilet Paper! ($5.00/$6.00)
Hike Valley ($4.99/$6.69)
Rider Among Dead ($4.99/$6.99)
Pixel Game Maker Series Looplight ($4.99/$5.99)
Outcasts of Dungeon ($4.99/$6.99: Friday)
Super Hero Fighting Legends ($4.99/$6.99: Friday)
Scrap Games ($4.49/$6.00: Saturday)
Railway Islands - Puzzle ($3.99/$5.31)
Void Scrappers ($3.99/$4.99: Friday)
Chess Pills ($2.99/$3.99)
Hentai: Japanese Goblins ($2.49/$3.25: Monday)
Chess Openings and Book Moves ($2.99/$3.50: Tuesday)
Self gunsbase ($1.99/$2.66: Monday)
Inquiry For Justice ($1.50/not released: Friday)
Ro ($0.50/$0.95: Friday)
Archives
Sky Kid DX ($7.99/$9.87)
Sales and Price Drops
Highlights: Divinity: Original Sin II is half off until Wednesday. PSPrices, DekuDeals
Europe
Retail
Void Terrarium 2 (€39.99/£35.99: Friday)
Digital
A Fox And His Robot (€59.99/£49.99: Wednesday)
Fitness Boxing: Fist of the North Star (€49.99/£39.99: Wednesday)
Brok the InvestiGator (€24.99/£21.99: Wednesday)
Disaster Detective Saga: An Indescribable Mystery (€24.99/£17.99: Friday)
Green Soldiers Heroes (€20.00/£17.99: Wednesday)
Metal Dogs (€20.00/£17.99: Friday)
Ken Follett's The Pillars of the Earth (€19.99/£17.99: Wednesday)
DARQ Ultimate Edition (€19.99/£17.99: Friday)
The Smile Alchemist (€19.99/£17.99)
Lucy Dreaming (€15.99/£14.99: Tuesday)
Afterthought (€14.99/£13.49: Tuesday)
Live Factory (€14.99/£13.49)
Ala Mobile (€14.99/£19.99: Friday)
Meg's Monster (€14.79/£12.79)
Rytmos (€14.29/£13.49: Tuesday)
Dream Park Story (€13.00/£11.69)
Dungeon Core (€12.99/£11.49)
Notes + Stickers (€12.99/£11.69: Friday)
The Atla Archives (€10.99/£11.99: Friday)
Ruku's Heart Balloon (€10.99/£9.89: Friday)
Aery - Calm Mind 3 (€9.99/£9.99)
Vanaris Tactics (€8.99/£7.99)
Choice of Life: Middle Ages 2 (€6.89/£6.19: Tuesday)
Gunman Tales (€6.99/£6.99)
Pretty Girls Breakers! PLUS (€6.99/£6.29)
Give Me Toilet Paper! (€5.00/£3.60)
Midnight Drifter (€4.99/£4.99)
Rider Among Dead (€4.99/£4.99)
Hike Valley (€4.99/£4.49)
Pixel Game Maker Series Looplight (€4.99/£4.49)
Outcasts of Dungeon (€4.99/£4.99: Friday)
Super Hero Fighting Legends (€4.99/£4.99: Friday)
Ro (€4.99/£4.49: Saturday)
Scrap Games (€4.49/£4.09: Saturday)
Railway Islands - Puzzle (€3.99/£3.59)
Void Scrappers (€3.99/£3.59: Friday)
Chess Openings and Book Moves (€2.99/£2.69: Tuesday)
Chess Pills (€2.99/£2.49)
Hentai: Japanese Goblins (€2.49/£3.25: Monday)
Self gunsbase (€1.99/£1.79: Monday)
Archives
Sky Kid DX (€6.99/£6.29)
Japan
A Fox And His Robot (¥6500)
Rune Factory 3 Special (¥5478)
Spongebob Squarepants: The Cosmic Shake (¥5170: Tuesday)
Bus Driver Simulator 22 (¥3999)
Dungeon of the Endless (¥3500)
Cthulhu Mythos RPG - The Sleeping GIrl of the Miasma Sea (¥2980)
Super Toy Cars Offroad (¥2860)
Ken Follett's The Pillars of the Earth (¥2800)
Disaster Detective Saga: An Indescribable Mystery (¥2728)
Green Soldiers Heroes (¥2623)
Brok the InvestiGator (¥2499)
The Crackpet Show (¥2200)
Rytmos (¥2000)
The Atla Archives (¥1900: Friday)
Notes + Stickers (¥1720)
Meg's Monster (¥1650)
The Smile Alchemist (¥1540)
Pizza Tycoon (¥1520)
Dream Park Story (¥1500)
Montezuma's Revenge: 8 Bit Edition (¥1500)
Live Factory (¥1480)
Aery - Calm Mind 3 (¥1400)
Ruku's Heart Balloon (¥1300)
Afterthought (¥1200)
Sakura Magical Girls (¥1000)
Right and Down (¥999)
Vanaris Tactics (¥990)
Isn't It Just Cute? (¥980)
Kisekae Sweet Closet (¥980)
Mischievous Eraser (¥980)
Mystery Door Mysterious Time 2 (¥980)
Neighbors (¥980)
Sky Kid DX (¥838)
Pretty Girls Breakers! PLUS (¥800)
Looking For Aliens (¥749)
Midnight Drifter (¥699)
Rider Among Dead (¥669)
Frog Hop (¥660)
Give Me Toilet Paper! (¥600)
Kabedon: Midsummer Chara Man (¥550)
Void Scrappers (¥470)
Midnight Is Lost (¥400)
Inquiry For Justice (¥150)
Chess Pills (¥379)