Maybe the groundhog will let me know I won't have to deal with six more weeks of mandatory overtime.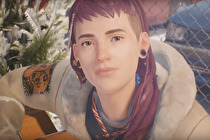 Things we missed last week: The digital version of the Wonder Boy Anniversary Collection, THQ Nordic's action RPG Risen, and Taito's The New Zealand Story in the Archives. Oh, and Goldeneye in the N64 app.
It's a big week for mid-range Switch titles, which kicks off on press day as Devolver's Trek to Yomi is due to drop, followed by a new Spongebob Squarepants game on Tuesday, and then Annapurna's The Pathless and the missing game in the Life is Strange series (Life is Strange 2) on Thursday. Of those, I'd be the most interested in the Life is Strange, but all four look like interesting shots.
Smaller titles that we're watching this week include Playism's shooter Drainus and No More Robots's Fashion Police Squad, plus a compilation of Bust-a-Move/Puzzle Bobble titles.
North America
Retail
Spongebob Squarepants: The Cosmic Shake (US$39.99-: Tuesday)
Cuddly Forest Friends ($39.99/$49.99)
Digital
The Pathless ($39.99/$49.99)
Life is Strange 2 ($31.99/$43.99)
Harvest Yuuka ($25.00/$33.77: Wednesday)
Power Wash Simulator ($24.99/$33.49: Tuesday)
Monster Girls and the Mysterious Adventure 2 ($21.99/$29.99)
Trek to Yomi ($19.99/$22.79: Monday)
Active DBG: Brave's Rage ($19.99/$29.99)
Drainus ($19.99/$25.99)
Fashion Police Squad ($19.99/$22.79)
Sport and Fun: Swimming ($19.99/$27.00: Friday)
Chasing Light ($18.99/$25.46)
Helveti ($16.99/$21.99: Friday)
Rhythm Sprout ($14.99/$19.99: Wednesday)
Puzzle Bobble 2+/3+ S-Tribute ($14.99/$19.49: Wednesday)
Gunscape ($14.99/$16.99: Wednesday)
Brightstone Mysteries: The Others ($14.99)
NCL: USA Bowl ($14.99/$20.08: Friday)
Jumbo Airport Story ($14.00/$18.00)
Car Factory Driver ($12.99/$16.99: Friday)
Match Ventures 2 ($11.99)
Oshiro ($10.99/$14.30)
Albacete Warrior ($9.99/$11.99: Wednesday)
Sakura Cupid ($9.99/$13.99)
Trophy ($9.99/$13.32: Friday)
Hentai RPG: Isekai Journey ($8.99/$12.13: Friday)
Capybara Madness ($6.99/$9.49: Monday)
Hundred Fires: The Rising of Red Star Episode 2 ($5.99/$8.03: Friday)
Beat Them Up Box Simulator ($4.99/$6.99)
Exitman Deluxe ($4.99/$6.99)
Pixel Game Maker Series Cat and Tower ($4.99/$6.99)
Shark Attack ($4.99/$6.99)
Air Jet Fighter Combat ($4.99/$6.79)
Kart Crazy Race ($4.99/$6.79)
The Intership ($4.99/$6.50)
Pets at Work ($4.99/$6.99: Friday)
Tiny Detour ($4.99/$6.64: Friday)
Red Hands: 2 Player Games ($4.50/$5.80)
Seraph's Last Stand ($3.99/$4.99: Saturday)
Box Roulette Simulator ($2.99/$3.99)
Crime Map: Spot the Hidden Differences ($2.99/$3.50)
Foxy's Coin Hunt ($2.99/$4.00: Saturday)
Swap Puzzles ($2.99/$4.00: Friday)
Samurai Warrior ($2.29/$3.00: Friday)
Radiantflux Hyperfractal 4.0 ($1.99/$2.99)
Archives
Phelios ($7.99/$9.87)
Sales and Price Drops
The latest 2K sale (on until February 6) includes New Tales from the Borderlands half off. PSPrices, DekuDeals
Europe
Retail
Spongebob Squarepants: The Cosmic Shake (€39.99/£34.99: Tuesday)
Cuddly Forest Friends (€39.99/£35.99)
Digital
The Pathless (€37.99/£33.99)
Life is Strange 2 (€31.99/£25.99)
Harvest Yuuka (€25.00/£22.04)
Power Wash Simulator (€24.99/£19.99: Tuesday)
Monster Girls and the Mysterious Adventure 2 (€20.98/£18.79)
Trek to Yomi (€19.99/£17.99: Monday)
Sport and Fun: Swimming (€19.99/£17.99: Friday)
Drainus (€19.50/£17.59)
Active DBG: Brave's Rage (€18.99/£17.09)
Chasing Light (€18.00/£18.00)
Helveti (€16.99/£15.29: Friday)
Fashion Police Squad (€16.79/£15.49)
Puzzle Bobble 2+/3+ S-Tribute (€14.99/£13.49: Wednesday)
Rhythm Sprout (€14.99/£13.49: Wednesday)
Brightstone Mysteries: The Others (€14.99/£13.49)
Jumbo Airport Story (€13/£11.69: Wednesday)
Car Factory Driver (€12.99/£11.69: Friday)
Gunscape (€11.99/£9.99: Wednesday)
Match Ventures 2 (€11.99/£10.79)
Oshiro (€10.99/£9.89)
Albacete Warrior (€9.99/£8.99: Wednesday)
Sakura Cupid (€9.99/£9.99)
Words In Word (€9.99/£8.99)
Hippo: Little Red Riding Hood (€9.99/£8.99)
Seraph's Last Stand (€9.99/£8.99: Saturday)
Trophy (€9.59/£8.59: Friday)
Hentai RPG: Isekai Journey (€8.29/£7.49: Friday)
Capybara Madness (€6.99/£9.49: Monday)
Street Racers (€6.00/£5.39: Monday)
Hundred Fires: The Rising of Red Star Episode 2 (€5.99/£5.39: Friday)
The Intership (€4.99/£4.49: Wednesday)
Beat Them Up Box Simulator (€4.99/£4.99)
Shark Attack (€4.99/£4.99)
Exitman Deluxe (€4.99/£4.49)
Pixel Game Maker Series Cat and Tower (€4.99/£4.49)
Pets at Work (€4.99/£4.99: Friday)
Tiny Detour (€4.99/£4.49: Friday)
Offroad Moto Bike (€3.99/£3.99: Friday)
Box Roulette Simulator (€2.99/£2.99)
Tuk Tuk Extreme (€2.99/£2.99)
Crime Map: Spot the Hidden Differences (€2.99/£2.69)
Swap Puzzles (€2.99/£2.70: Friday)
Foxy's Coin Hunt (€2.99/£2.69: Saturday)
Samurai Warrior (€2.29/£2.09: Friday)
Radiantflux Hyperfractal 4.0 (€1.99/£1.79)
Archives
Phelios (€6.99/£6.29)
Japan
Life in Willowdale: Farm Adventure (¥5478)
The Pathless (¥4950)
Monster Girls and the Mysterious Adventure 2 (¥2980)
PowerWash Simulator (¥2970: Tuesday)
Beholder 3 (¥2899)
Sport and Fun: Swimming (¥2699)
Trek to Yomi (¥2310: Tuesday)
Lone Ruin (¥2200)
Chasing Light (¥2000)
Active DBG: Brave's Rage (¥1999)
Drainus (¥1980)
Siblings Role Play (¥1980)
Rhythm Sprout (¥1979)
Puzzle Bobble 2+/3+ S-Tribute (¥1900)
Jumbo Airport Story (¥1500)
Oshiro (¥1490)
Extreme Highway Racing: Real Speed Driver (¥1399)
Fear in Hospital: Escape Horror Story (¥1399)
Unblock The Brick: Casual Block Puzzle (¥1399)
Astronomical Club For Queers (¥1322)
Looking for something strange (¥1322)
Fluffy Horde (¥1321)
Hippo: Little Red Riding Hood (¥1299)
Words In Word (¥1299)
Sakura Cupid (¥1000)
Phelios (¥838)
Chalk Gardens (¥792)
Pets at Work (¥660)
Red Hands: 2 Player Games (¥560)
Pixel Game Maker Series Cat and Tower (¥550)
Exitman Deluxe (¥500)
Hyper Shapes (¥500)
Adult Love DX (¥420)
Let's Love Youth (¥420)
Tokyo Aru Aru Show (¥420)
Foxy's Coin Hunt (¥380)
Samurai Warrior (¥280)