A little something for everyone from planters to OS engineers.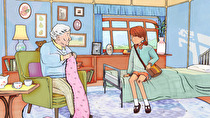 Alongside today's four releases and the demo for Card Shark, a large group of upcoming indie titles were revealed for Switch in today's Indie World.
Card Shark from Devolver, in addition to its demo, is available for eShop preorder which will go live on June 2.
Silt, an underwater puzzle adventure from studio Spiral Circus, will finally release on Switch next month.
ghost pattern's Wayward Strand, set on a flying hospital in 1970s Australia, will tell stories in real time beginning on June 21.
Create your own beloved triple threat in Idol Manager, which takes the Switch stag on August 25.
Chaotic golf adventure Cursed to Golf will tee off in the summer.
The newest in a lineage of platformers that involve cranium flinging, ElecHead is a side scroller produced by a solo developer named Nama Takahashi. The player character can touch any surface to electrify it, including the ability to fling their head in order to charge up distant objects. ElecHead is plotting a summer release.
OneShot: World Machine Edition, a narrative adventure about a living world inside a computer's operating system, will boot up in the summer.
Ooblets, the popular monster growing sim previously released on PC and Xbox via Early Access programs, will sprout on Switch this summer after going to version 1.0.
Simulation strategy parody Totally Accurate Battle Simulator from Landfall Games will wobble on the go in the summer.
We Are OFK, an adventure game about a struggling band that will release episodes weekly, is slated to premiere on Switch alongside other platforms this summer.
A Guidebook of Babel, an adventure focused on the butterfly effect, will begin its flapping this fall.
Stormind Games and Team17 have teamed up for a hack-and-slash twin stick RPG called Batora: Lost Heaven, which will take off in the fall.
Tactical roguelike deckbuilder Wildfrost, from developer Deadpan Games and published by Chucklefish, will deal in this holiday.
Cult of the Lamb, from developer Massive Monster and publisher Devolver Digital, will bring its brand of randomly generated cult building sometime in 2022.
The next game from the team behind Gato Roboto (developer Doinksoft and publisher Devolver) is Gunbrella, a punk adventure starring a woodsman armed with a bullet-packing umbrella. The side scroller is slated for 2023.
Going Under developers Aggro Crab have announced Another Crab's Treasure, a crab themed hardcore action RPG that tries to bring on the death of "crabitalism". The treasure hunt begins in 2023.