That's right - NWR's doin' it live again for the kids on November 8th at 12 Noon Eastern! UPDATE: Chat and audio stream now available!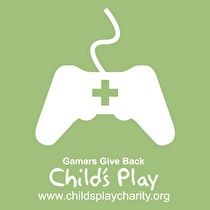 The show is over now, but we recorded it all for you! Radio Free Nintendo subscribers will get each part as it becomes available. You can also download each part directly with these links:
Part 1 - RFN Listener Mail, Top Five Personal Games, Nintendoaire, and Unlicensed to Drive (Enhanced AAC) (MP3)
Part 2 - Radio Trivia, 10 Years of DS, and NFR's Start Tank (Enhanced AAC) (MP3)
Part 3 - Famicast, Shenanigans, and Box Office Poison (Enhanced AAC) (MP3)
You read right! We're back yet again with a gigantic LIVE mega-podcast for charity. For those of you who've been living under a rock these last five years, it'll be an all-day NWR audio event in which we'll jibber-jabber to support Child's Play, an international charity that gives toys, games and consoles to sick kids in pediatric hospital wards. When our milestones are reached, you'll unlock another hour of live content. Check out the awe-inspiring results of years past in 2010, 2011, 2012 and 2013!
You can make a donation by clicking on the widget above or by following this link.
JIGGAWHAT: An epic Nintendo/gaming-themed live audio "podcast" telethon!
JIGGAWHY: For Child's Play, a charity that provides toys and games to sick kids!
JIGGAWHO: Nintendo World Report staff, special guests and you!
JIGGAWHEN: Saturday, November 8th at 12:00 Noon Eastern Time (9:00AM Pacific, 5:00PM GMT) until… you decide!
JIGGAWHERE: Right here, so bookmark this page, folks!
JIGGAHOW: It's the internet. Maybe you've heard of it before.
Here at Nintendo World Report, we've long been supporters of Child's Play, the fantastic charity that provides toys and games to hospitalized kids. If you're not familiar with Child's Play, check out the official website and listen to Jonny's RFN Special interview with Mike Krahulik, co-founder of the charity (and Penny Arcade), way back in 2007. So, when our old friend Karl Castaneda brought us an idea for doing a special, live-streaming podcast to support Child's Play, we got excited. Not only can we do things live that don't make sense in a recorded show, like real-time listener interaction, but the lack of editing means there are fewer constraints on how long the show can run. Then we thought… why not do it telethon-style, all day long? It's been an amazing ride so far, and this year we're hoping to raise more money than ever for this excellent charity!
***If you are new to NWR podcasts, please be advised that the show is LIVE and may contain explicit language. We're doin' it for the kids, but the show itself is for grown-ups.***
Content Program and Fundraising Goals:
(Note: Schedule is subject to change before and even during the event. Each hour of content will be unlocked when the corresponding donation goal is met. Fundraising goals are totals, i.e. all previous donations are counted towards the amount. Pacific time zone is three hours earlier than the time shown below!)
12:00 Eastern - New Business: Our Impressions on the Latest Games w/Special Guests (FREE)
1:00pm Eastern - RFN Presents Their Top 5 Personal Games of All Time ($500)
2:00pm Eastern - Connectivity Presents: Who Wants to be a Nintendoaire? ($1000)
3:00pm Eastern - Jon and James are… Unlicensed to Drive ($1500)
4:00pm Eastern - Radio Trivia Live: Game Music Trivia Show ($2000)
5:00pm Eastern - 10 Years Later: How the DS Ushered in the Touch Generation ($2500)
6:00pm Eastern - Start Tank: Nintendo Free Radio Dives into Kickstarter ($3000)
7:00pm Eastern - Famicast Live: 'Cast Harder ($3500)
8:00pm Eastern - Shenanigans: Please Understand, Because We Don't ($4000)
9:00pm Eastern: Box Office Poison Live Part Deux ($5000 Stretch Goal)
Post-Telethon Stretch Goals:
- To Catch a Pre-Historic Predator w/Zach Miller LIVE Q&A ($6000)
- Connectivity Live Event ($7000)
- Radio Free Nintendo Live Event ($8000)
Check out our huge list of prizes!
Ways You Can Help:
1. Donate! This is the most direct way to help meet our goals for the event and support Child's Play. You can donate money before, during and for a couple weeks after the live event.
2. Promote! If you're a part of a community or group of friends who enjoy Nintendo or video games, please help us spread the word and explain what's so great about this event. (Always be respective -- don't spam on our behalf)
3. Participate! Listen to the live event, play along in the chat room and call in for interactive segments, you'll make the event better for everyone!
4. Prizes! If you've hit the limit on donating money but have some special gaming swag or digital game codes to give away, we could use them as prizes. Please email us with any offers.