Sorry, the Box Hunter is out this week. Instead, a friendly tiger joins our circus!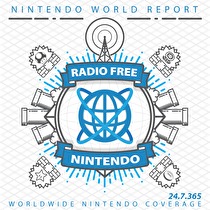 Subscribe via iTunes (Please rate and review, too!)
Anyone hoping for a tribute to the worst episode ever is going to be disappointed this week, but listeners hoping for a ton of exciting Nintendo discussion are in for a Halloween treat! Our special guest is Josh Hillyer, who you might know from Back in My Play and a recent guest spot on Player One Podcast. His specialized knowledge includes the "Bodda Getta" cheer.
New Business kicks off (HEY!) with the brand new 3DS game, Shantae and the Pirate's Curse. Jonny has been very critical of previous games in this series, but WayForward's latest adventure is a major improvement and certainly one of the year's best 3DS games. Josh goes next with his thoughts on another contender for the playoffs, Smash Bros. for 3DS. It's an interesting week to reflect on this game in light of Nintendo finally revealing the Wii U version, but more on that later. Guillaume takes one for the team by digging up Wii Music -- did we judge it too harshly in 2008? ...maybe not. JON LINDEMANN UNWRAPS, INSTALLS, AND PLAYS SKYRIM. This potentially relates to the next Zelda game, but it's also an important milestone in his personal journey. Finally, we punt back to Josh for his recommendation of Kirby Triple Deluxe, the overlooked platformer from earlier this year.
After making a few adjustments, we're back in action to run down the highlights from Nintendo's latest (last?) Smash Bros. Direct. In a video rolling off more than 50 new facts about the game, quite a few were big surprises. Our main purpose here is to set hype levels for the upcoming Wii U version, and it's clear that Nintendo has shifted the momentum. The podcast finishes strong with a fun, philosophical debate on the concept of "artistic intent" in video games, inspired by Patrick Klepek's recent article about The Evil Within's unusual aspect ratio. Though we may disagree in the end, we'd all give two bits, four bits, six bits, even a whole dollar to hear more critical discussion about games as art, especially with all the recent, unsportsmanlike conduct surrounding video games.
We ran out the clock before getting to Listener Mail, but there's always next time. Show your podcast spirit by sending in a great question or topic! Also, you can join the booster club for sick kids by donating early to Child's Play as we mentally prepare for the 5th Annual NWR Charity Telethon on Saturday, November 8! Finally, you should go for the extra points by reading Josh Hillyer's short novel Train of Thought on Amazon and flying down the field to his games writing company, Bonus Star Consulting.
This episode was edited by Guillaume Veillette. The "Men of Leisure" theme song was produced exclusively for Radio Free Nintendo by Perry Burkum. Hear more at Bluffs Custom Music.