If you weren't buying it already, you might be now.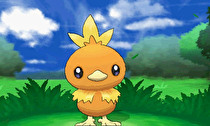 Gen III starter Torchic will be downloadable as part of a special distribution event for the release of Pokémon X and Y.
Starting on October 12 gamers will be able to receive a special Torchic via Wi-Fi as part of an event commemorating the release of the new Pokémon games.
Torchic will arrive in a Cherish Ball as a level 10 Pokémon with a move-set containing: Scratch, Growl, Focus Energy, and Ember. It will also have Speed Boost, an ability which increases a Pokémon's speed at the end of each turn, Blazikenite, the hold item for Blaziken's Mega Evolution, and a Premiere Ribbon.
The event will run for three months, until January 15, 2014.