Operation Rainfall needs to weather a short delay.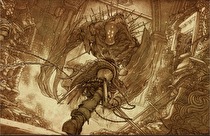 The Last Story, developed by Mistwalker and published by XSEED in North America, isn't expected in most North American stores until August 16, missing its slated August 14 release date.
The game was supposed to be out today, but according to XSEED, a late shipment means The Last Story won't be in most stores today.
The Last Story has been out in Japan since early 2011, and came out in Europe back in February of this year. It is the second Operation Rainfall game to make it out in North America, following Xenoblade Chronicles' April release. There is still no word on whether or not Pandora's Tower, the third Operation Rainfall game, will ever make it to North America.