Pre-order it from select retailers and get a soundtrack in addition to the art book.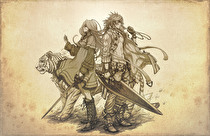 The Last Story will finally come to North America on August 14 and retail for $49.99, according to IGN.
Additionally, Xseed revealed that people who pre-order the game at GameStop, EB Games Canada, and Amazon.com will receive a seven-song soundtrack, containing songs from the game's score composed by Final Fantasy vet Nobuo Uematsu, as a pre-order bonus. The first run of the game is already set to come in special packaging with an art book.
The Last Story first came out in Japan in early 2011, and came out in Europe back in February. It is the second of the three Operation Rainfall games to come out in North America, following Xenoblade Chronicles' release in April as a GameStop exclusive. There are currently no plans for Pandora's Tower to see a stateside release.