The Virtual Console finally returns to the 3DS eShop.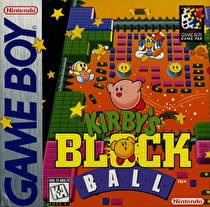 This week we see the return of the 3DS Virtual Console, a new DSiWare title, and the arrival of a long-awaited 3DS demo. Additionally, Mario Kart 7's much-needed online patch is also available on the eShop this week.
After a long hiatus, the Virtual Console is finally back on the 3DS, this time in the form of Kirby's Block Ball for the Game Boy. In Kirby's Block Ball, you take control of a paddle and use it to send Kirby tumbling into blocks and enemies alike. This Kirby-filled Arkanoid clone is available for $2.99 on the eShop.
The demo for this week is the long-awaited Rayman Origins for the 3DS. Just like its console counterparts, Rayman Origins for the 3DS is a platformer with a unique and colorful art style, starring everyone's favorite limbless hero, Rayman. Rayman Origins is currently slated for release on June 5, 2012.
Lastly, the DSiWare offering this week is Chronicles of Vampires: The Awakening. A sequel to last year's Chronicles of Vampires: Origins, The Awakening continues where the first game left off. In addition to its vampire-filled story, this adventure game offers numerous puzzles to solve, mini-games to complete, and hidden objects to find. Chronicles of Vampires: The Awakening will set you back $4.99 on the eShop and 500 points on the Nintendo DSi Shop.