The game is coming out on the day of Nintendo's press conference, and the press release insinuates it might be hitting the eShop and retail.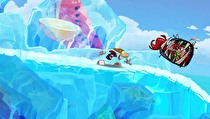 Rayman Origins is set for a June 5 release on the 3DS, according to Ubisoft. The game might be coming to both the eShop and retail outlets, though.
Ubisoft's official press release has a curious conclusion: "The full version of the game will be available at retailers and online on June 5, 2012."
The use of online could just mean online retailers, but then again, June 5 is also the same day as Nintendo's E3 press conference, where the company will likely make announcements about the 3DS and the impending full game downloads.
Previously, the 3DS version of Rayman Origins was scheduled for release on March 20, 2012. However, it was later delayed to an unspecified date in June 2012.
Additionally, some online retailers have the game set to launch in Europe on June 8, 2012