In which I stomp my feet and demand Wario Land and Kirby's Block Ball.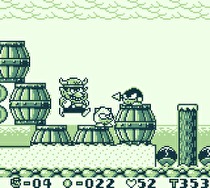 We're nearing the end of the first quarter of 2012, and while it seems like original titles on Nintendo's eShop are coming with regularity and quality, the Virtual Console has started to get cast aside.
Since the start of 2012, the 3DS has gotten two Game Boy titles, three NES titles, and three Game Gear titles. Last year, following the eShop launch in June, there were an average of four Virtual Console games released a month. Right now, we're getting less than three, and it gets even worse if you take into consideration that two of the NES games were part of the September batch of Ambassador games, and the Game Gear titles all came in one week.
Meanwhile, the Wii has gotten three Virtual Console titles this year, which is earth-shattering after the nearly six-month drought. But Wii's Virtual Console decline during the system's life makes this early stumble by the service on 3DS worrisome, especially as Japan and Europe are both surging ahead with more Game Boy games.
Currently, Europe only has had two more Virtual Console releases than North America (Europe is also getting the Game Gear games two weeks later, so it'll be five more soon enough), but Europe is getting Virtual Console games on a regular basis, with at least two Game Boy games a month in addition to an occasional NES or Game Boy Color game. Japan currently has 25 more games available, with new games added nearly every week.
Even worse are the games that North America is missing out on right now. Europe and Japan both have Wario Land, Trip World, Kirby's Block Ball, and Kid Icarus: Of Myths and Monsters, the latter of which didn't even originally come out in Japan!
I hope this is just an anomaly, precipitated by letting the original titles on eShop take center stage. Perhaps we're on the cusp of a Virtual Console spring awakening. Unfortunately, I'll believe it when I see it, especially with the Wii's Virtual Console deterioration in recent memory.
Note: You could replace "Virtual Console" with "3DS original games" and make the same complaints for Europe, since they're still waiting for VVVVVV, Mutant Mudds, Sakura Samurai, and more. Either way, each region has something to complain about, and that sucks.