Remember when we had almost a new Game Boy release on eShop every week? Yea, me neither.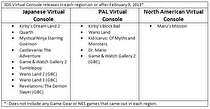 On March 28, roughly a month and a half ago, I wrote an article entitled A Frightening Virtual Console Realization, in which I explained how I was worried that Nintendo of America was prematurely abandoning the service far earlier than they did on Wii.
Now, on May 4, approximately six opportunities to release a 3DS Virtual Console game later, I have the same complaint. Oddly enough, it's coming on the heels of a mini-Wii Virtual Console renaissance. For the first time since 2010, there will be three consecutive weeks of Wii Virtual Console releases, thanks to Capcom and Sega. Hell, next week we're getting two games, including the never-before-released-in-America Monster World IV, which looks awesome.
It is rather depressing right now for 3DS owners who love retro games, as only two Game Boy games have come out on the system this year, which we're almost halfway done. To add insult to injury, they were Lock'N Chase and Maru's Mission, two games that are mediocre at best. The 3DS Virtual Console wasn't completely barren outside of those two games in North America, though, as the service did get three wonderfully emulated Game Gear games, and three NES games (two of which were given out as Ambassador titles in August 2011). Those six games were also all added to every other region.
Since February 9, the last time North America received a new Game Boy title on the eShop, Japan and Europe have added nine and six games, respectively.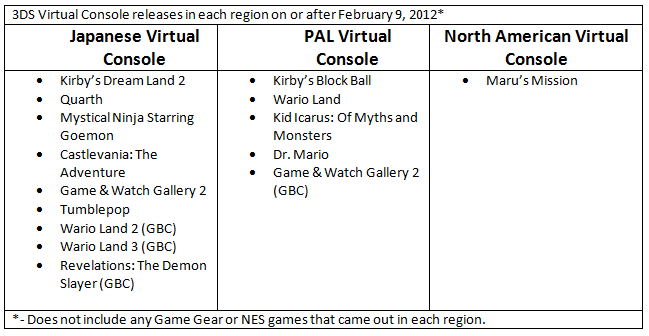 Look at my handy chart (above) to see the depressing disparity. It's not like Japan and Europe are receiving shovelware games. All three Wario Land games are available on the 3DS Virtual Console. Kid Icarus' Game Boy sequel is on the service in both Japan and Europe now, as is Game & Watch Gallery 2. The Game Boy Goemon game is in Japan. Kirby's Block Ball is available in Europe, and Kirby's Dream Land 2 is out in Japan. Meanwhile, we have freaking Maru's Mission in North America. And...oh wait, that's about it.
Even with accounting for the Game Gear and NES games, this is an awful trend for Nintendo of America to be setting. You've got to think, that coming off the Operation Rainfall debacle, where Nintendo of Europe so thoroughly embarrassed the North American branch with successful launches of Xenoblade Chronicles, The Last Story, and Pandora's Tower, Nintendo of America would want to triumph over their sibling in some way.
Instead, we're stuck with the worst 3DS Virtual Console by a large margin, and sadly, there is no promise of a light at the end of the tunnel.
Note: We have reached out to Nintendo of America to comment on this trend, but as of this posting, we have not gotten a response.