3DS owners can receive 3D Classics: Kid Icarus at select retailers, game will come with 3DS stand.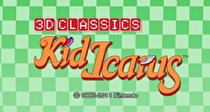 Pre-ordering Kid Icarus: Uprsing at GameStop, Best Buy, or Amazon will earn North American customers a download code for 3D Classics: Kid Icarus, a remastered version of the NES original. The remake, though faithful to the original, contains new backgrounds and 3D graphics.
Download codes for 3D Classics: Kid Icarus were previously given away in Europe as part of a Club Nintendo promotion.
Nintendo has also revealed that a new difficulty scale called "Fiend's Cauldron" will be included in the game. The scale allows the player to adjust the "intensity" of the experience from 0.0 to 9.0. High difficulty will reward the player with more hearts and better weapon drops from defeated enemies can be collected. Nintendo states that the "standard" difficulty is 2.0, and notes that the scale can be changed in incriments of 0.1.
Nintendo of America has also confirmed that customers in North America will, like those in Japan, will receive a stand for the 3DS with the purchase of Kid Icarus: Uprising. The stand is designed to free both of the player's hands to control the game.
Kid Icarus: Uprising launches March 23 in North America.