The new peripheral allows 3DS owners to keep their system steady while playing.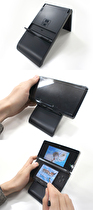 Kid Icarus: Uprising is shipping with a special 3DS stand when it releases in Japan this March, according to Project Sora head Masahiro Sakurai.
The stand was revealed on the developer's Twitter as a way to keep the system still while playing Kid Icarus. He further explained that the stand is compatible with all other 3DS games, and suggests that it proves especially useful when playing games heavily reliant on the touch screen.
The 3DS stand is the second peripheral confirmed to be usable with Kid Icarus, as Sakurai also revealed that the game will use the Circle Pad Pro for left-handed functionality.
As of right now, the peripheral is only confirmed to be bundled with Japanese copies of the game, although announcements for other territories may soon follow.
Update: Nintendo confirmed that the stand will ship with the game in all regions.