What went down at the west coast's big Wii bash? NWR reports!
While Nintendo's marketing isn't always perfect, the company knows how to put on an electric event and pulled out all the stops for its Los Angeles Wii Launch. Located at the EB Games/GameStop at Universal City Walk in Hollywood—the same flagship store used for the Nintendo DS launch—Saturday night was a variety of energies.
Site Director Steven Rodriguez and I arrived at City Walk around 2 in the afternoon, at which time the line was a good two-hundred gamers long. Gamers young and old hugged railings alongside EB Games, The Hard Rock Café, and other City Walk establishments. The line quickly engrossed the three-story-tall stair well and, by nightfall, the walkway leading to the parking lot and mall entrance. A good half of these Nintendo fans were competing in Mario Kart, Clubhouse Games, New Super Mario Bros. and other multiplayer DS games. Others had books or laptops to pass the time—a few even brought board games. (Anyone remember Life?) Of course, some of the first in line had sacrificed precious days for their position. The first two—GameJew (an energetic fan wearing a Mario costume sans the shirt) and his buddy (wearing a felt Toad hat)—allegedly began waiting early Friday morning, and sleeping bags decorated the nearby landscape.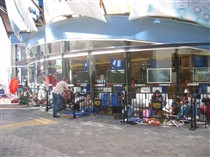 There was more to the event than a huge honking line, though. As day became night, a stage near EB Games lit up to entertain passer-bys, demonstrating Wii Sports and talking about Nintendo's new system. Wii units and LCD screens surrounding the Hard Rock Café and its giant guitar allowed anyone to experience The Legend of Zelda: Twilight Princess, Wii Sports and Excite Truck first-hand. These kiosks seemed to be a big hit among the usual City Walk patrons, as well as Nintendo fans with pre-orders (or friends holding their spot in line). Even better, Nintendo representatives maneuvered Segways with mounted LCD screens and Wiis for those in line to play. Off to the side Nintendo also displayed recent Nintendo DS titles.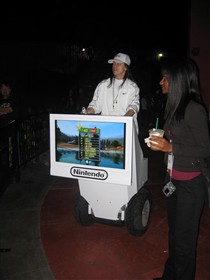 At around 9 in the evening the formal festivities began on stage, with Nintendo of America Vice President George Harrison and his associate from GameStop welcoming everyone on a stage next to EB Games. From then until midnight there were Wii demonstrations, acrobatics, and a solid DJ. An on-stage screen and the speaker system (spanning all of City Walk) also blasted interviews with those in line and explanations of Wii's features. When twelve bells finally tolled, party streamers fell from above the EB Games entrance and the Mario look-alike (now with a shirt) received the first Wii from George Harrison himself.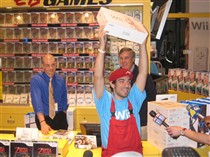 When asked for a comment, the proud Wii owner "unexpectedly" sang his very own song about the meaning of "Wii." After all the excitement, those from the preorder and regular lines began a slow but steady trek to their own Wii purchases.
Nintendo World Report will have more coverage from the launch event soon, but until then you can enjoy more pictures from Universal City Walk!