A report from the Wii launch in Baton Rouge, complete with exciting twists and turns!
So I didn't manage to preorder in timely fashion. I thought maybe I'd just wait until my preorder could be filled in a few weeks (there are some great games to play on other consoles after all), but unsurprisingly, I woke up today and couldn't stop thinking about getting a Wii. After looking a few things up on the net, I realized only a single store in Baton Rouge would be selling at midnight. I called the Wal-Mart in question to get allocation numbers and was told that there were twenty units but that twenty people were already in line. Bummer! Did I still want a Wii? Definitely! It was time for Plan B. The other Wal-Mart in the city was selling the next day at 6 am and also reported an allocation of 20 units. That would be the second earliest time at which Wiis would be sold here. I decided to go back to sleep for a few hours in preparation for an all-nighter.
I arrived at Wal-Mart #2 a little after 3:00 pm to find just one person in electronics asking where the Wii line should be formed. We were directed outside between the entrances. After chatting a bit, I discovered that he had a preorder at GameWare, an independent mall store I'm fond of. He decided he'd be happy to simply pick his up the next day if GameWare received enough units. It so happens that I know the manager, so I called the store from my cell and found out that this guy did indeed preorder early enough. He and a friend were the last two lucky ones out of fifteen. This turned out to be very fortunate for me. Now that I was alone and bored, I decided to investigate possibilities other than sitting in front of Wal-Mart #2 for fifteen hours. A few calls finally revealed allocations for Target (60) and Best Buy (130). I decided to drive around town a bit and explore.
The first place I went was Wal-Mart #1, which supposedly had twenty people lined up since 9:00 am. I figured it'd make a good picture, and I could go to Best Buy afterwards to try and verify the obscenely large allocation (that way I could just wake up early in the morning and get a Wii in relative comfort). It was about 4:15 pm as I approached a group of about twenty people in front of the store. I quickly verified that it was the Wii line/mob and just as quickly found out that, in fact, I would be the seventeenth person if I planned on staying. Someone lied! On a good note, that netted me an extra three hours of sleep and cut my time in line by about six hours. On a bad note, being seventeenth in line meant that I would have nearly last dibs on first party accessories and titles. The twentieth person would arrive at about 5:00 pm even.
The first folks to start the line (and stick with it) had arrived at 2:00 am the night before. One of them brought a TV, a PS2, Guitar Hero II and two guitar controllers. Rock! I hadn't yet had the opportunity to try Guitar Hero. As someone who's been playing a real guitar for thirteen years, I have to say I was surprised by how much fun it was. How about a Wii port guys?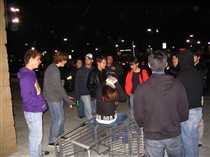 Half of these folks can smoke me at Guitar Hero
Eventually a Wal-Mart manager took down the informal list that we were keeping, and started coming out periodically to take roll. If anyone missed a couple of calls they would be bumped to the bottom of the list. Of course, no one missed a thing. Having managers pop out the store every now and then also gave us the opportunity to ask them about allocations. Eventually they verified that they did indeed have 20 units, but there was bad news. They couldn't find Zelda!
In time they stocked the shelves with third party software and invited us in to make some preliminary purchases. I picked up a copy of Super Monkey Ball and got a free Wii sticker, pen, temporary tattoo and iron-on patch. Score! Nintendo peripherals would remain in the back until midnight as their shipping boxes were marked with the green label of death (warning of dire consequences for selling prior to November 19). Zelda was still MIA as was Excite Truck.
As time gave way to repeated bouts of Guitar Hero II, midnight fast approached. In the last hour, quite a few additional people tried to get in on the action including one woman who insisted she had a ten year old son that would be quite upset if he didn't unwrap a shiny new Wii on Christmas morning. She was offering a 100 dollar reward as an incentive for giving up a spot in line. However, at this point the last unit was going to someone who had been waiting in the cold for seven hours, and a few had been there for twenty-three. Additionally, any one of us could sell our Wii on eBay for at least 200 dollars profit. Clearly it would take an act of altruism to help this woman. We tried to tell her that she would be unlikely to have a problem finding one before Christmas if she put in a little effort, but she wasn't very savvy about games. If she was, she wouldn't have hit up the only midnight launch in town at 11:00 pm!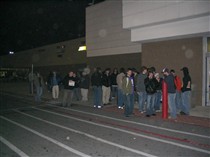 Just about to raid the store
Finally the time came and management handed out tickets so that we could purchase the twenty Wiis in an orderly fashion. It was good to be out of the cold and almost at the finish line after waiting for eight hours. Unfortunately they never did find Zelda, ultimately concluding that it hadn't arrived yet. D'oh! It took another thirty minutes of waiting in the shoe department as the first fifteen people checked out in groups of five.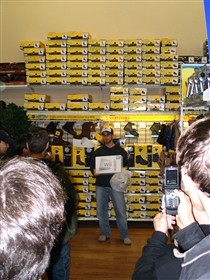 The first Wii sold in Baton Rouge
At last, they called the remaining five people. We left behind about ten who were apparently hoping that many a credit card would be denied. As I assumed, the accessories did not last, and I was only able to pick up one extra remote (minus the nunchuk). Thanks for telling me the line was full at 9:00 am whoever you are!
As we purchased the last five Wiis, we noticed that the guy holding the eleventh ticket hadn't bought his yet. He was thinking about the mother's offer. She insisted that she didn't have time to repeatedly stake out stores over the next month in hopes of getting a Wii. Should he do it? He might not have Zelda tonight, but surely he could find a copy tomorrow. And Zelda isn't the only reason to fire up a Wii. With all the other Wiis purchased, he had to make up his mind. After waiting nearly ten hours, number eleven decided to go ahead and give up his Wii. What a guy! I must say, I couldn't do it.
In closing, what happened to Zelda, Wal-Mart? It's a hell of a thing to fail to have the most important launch title for a new console in stock on day one. And why were there so few chucks? For that matter, why couldn't they get our stores more than 20 units when Target and Best Buy apparently have three to six times that? Those questions will have to remain unanswered as I believe I've earned some time with Super Monkey Ball.
Special thanks goes to all the great folks I waited in line with. I hope you like Nintendo World Report and find your copies of Zelda quickly!