Fox and Samus may be colliding in an epic crossover game if rumors are true.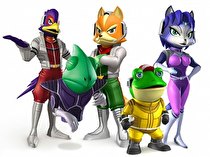 Rumor has it that Retro Studios is working on a Star Fox and Metroid crossover game that incorporates the gameplay mechanics of the two Nintendo franchises, website Paul Gale Network is reporting.
While this is still being seen as a big rumor floating around prior to E3, some details regarding the supposed game have appeared. The story goes that Retro Studios wanted to create a new IP that mixed third person action and intense aerial combat, while other team members wanted to work on a new Star Fox game.
Nintendo, seeing how they have collaborated in the past with games like Donkey Kong Country Returns and Mario Kart 7, decided to help them with the development of a game that would be a hybrid of Star Fox and Metroid.
The supposed story for this game is that when players start, they will begin with a Star Fox level controlling Fox as he and his team fly around the stage. Later, they crash into Samus's ship, which sends her to another planet. The gameplay is believed to switch between the two characters, with Samus having gameplay inspired by the Metroid Prime series (complete with exploration of levels and weapon upgrades) and Star Fox having aerial battles, on-rail and all-range modes.
The rumor also states that the gameplay has been designed so that the pace of one Nintendo franchise does not interrupt the flow of the other, and that players can either exclusively play one character or play them both via scripted events. Gameplay can also be switched between characters, with parts of the game having the player control Samus's ship while other levels have Fox walking on foot.
Despite what the sources may claim, this is still a big rumor. For weeks now, it has been rumored that Retro could be working on a Wii U game for launch or near the launch window to be revealed at this year's E3 conference. One of those games happened to be a new Star Fox game. Nintendo or Retro have confirmed or denied the existence of said games. If Retro was indeed involved in a new game, E3 2012 may be the place to announce it.
Special thanks to plufim for the news tip!