WiiWare was mysteriously absent from the game announcement.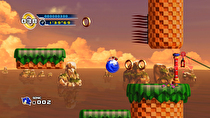 Sonic the Hedgehog 4 Episode 2 may skip WiiWare when it releases, the latest announcement possibly revealed.
In an interview with Gamespot, Digital Brand Manager Ken Balough presented the new teaser trailer as well as details regarding the upcoming game. Episode 2 introduces Tails as a playable character as well as the return of Metal Sonic as the game's antagonist. In the interview, it was mentioned that the game would be coming to Xbox 360 and PlayStation 3, but no mention of WiiWare or any other platform was made.
Sonic the Hedgehog 4 Episode 1 was released on all major downloadable platforms, including WiiWare. Nearly two years after Episode 1, Episode 2 is poised to debut in 2012.