Let's hope Bandai Namco have XSEED on line 2.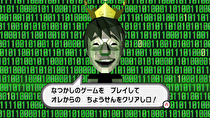 In honor of the source material's 20th anniversary, a pair of cult classics from Japan are getting a Switch "replay".
GameCenter CX: Arino no Chōsenjō 1+2 Replay has been announced by publisher Bandai Namco in a new trailer; although no release date was given, it will be appearing at the Tokyo Game Show later this month. The game will combine the original two GameCenter CX: Arino no Chōsenjō games from the DS, which create pastiches of classic Famicom (and later Game Boy, Super Famicom, and Game & Watch) games. The "Replay" will include an exclusive game, a pastiche of River City Ransom.
The original game was localized by XSEED in 2009 as "Retro Game Challenge", though due to low sales the second game (which released around the time of RGC's release) was Japan-only. No western release has been announced for Replay.