The advantage of also being an indie film company is that you can rope in some big names for smaller games.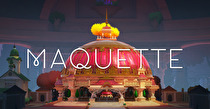 A first-person adventure with some star power behind it is crossing to the Switch next week.
Annapurna Interactive announced today that their 2021 PC release Maquette would come to Switch on Thursday (May 25). It also released previously on PlayStations 4 and 5.
The first person puzzle game stars Bryce Dallas Howard (Jurassic World series) and Seth Gabel (Fringe, Nip/Tuck) as a couple whose relationship is explored through "Escher-esque" puzzles.