Some of us haven't finished the base game yet!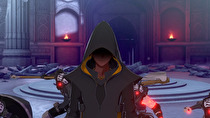 The newest Fire Emblem's expansion pass is a brief engagement.
Nintendo have confirmed that the "Fell Xenologue" story expansion will launch on April 4 in North America and 5 April in Europe and Japan. The capper to the expansion pass for the January 20 release is a story similar to the Three Houses "Cindered Shadows" story.
The trailer - which contains story spoilers for the main game - is below: