There's a Yo-kai that causes choking, I think it's named Luger.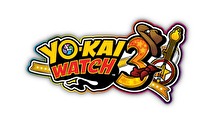 The adventures of the Yo-kai in the USA are finally headed there.
Nintendo has announced they will publish Yo-kai Watch 3 for the 3DS outside Japan. North America's release date has been confirmed as February 8, while Europe will receive the game in "winter". The Japanese release featured three versions named Sushi, Tempura, and Sukiyaki; western names have not been disclosed.
Yo-kai Watch 3 is officially set in the United States, and features new Yo-kai and a modified battle system.