We don't get the box set, but we can pick and choose.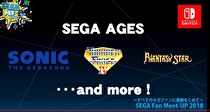 Sega is bringing some of their classic titles to Switch beginning this summer.
At Sega FES 2018 in Tokyo, Sega confirmed that they would bring their 'Sega Ages' label to the Switch eShop worldwide. More than 15 titles will be in the line, which will include Sonic the Hedgehog, Phantasy Star, and Thunder Force IV.
The games are being developed by M2, who also programmed the Sega 3D Classics for 3DS. Along with conversions of popular Genesis titles, there will also be a number of arcade classics. M2 enhanced many of the games in the Sega 3D Classics series with new game modes and secrets and it's planned for this tradition to continue on Switch.
The same festival also saw the announcement of a Mega Drive/Genesis mini console, and a new title in the Sakura Taisen/Wars franchise set for 2019 with no platforms identified.