Some grand strategy awaits the Switch.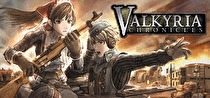 The Sega fan festival which saw the launch of the Sega Ages line added a couple of additional titles as it wrapped up earlier today.
Sega Ages will include Gain Ground and Alex Kidd In Miracle World among its first releases. An original arcade title, Alex Kidd was later a key game for the Sega Master System and was chosen due to high Virtual Console sales in Europe. Strategy title Gain Ground will include vertical Switch screen support.
Valkyria Chronicles, the 2008 PlayStation 3 title whose third sequel was delayed to fall in Japan, will be coming to the Switch eShop in Japan this fall. A western release has not been announced. The Switch version will launch at ¥1990 with all of the original game's DLC included, and buyers of Valkyria Chronicles 4 on Switch will receive a discount coupon to bring it to ¥500.