Which one will you get?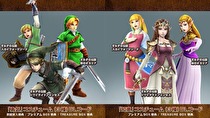 Best Buy and Amazon are joining GameStop's pre-order battle for Hyrule Warriors with exclusive Link and Zelda costumes of their own.
Players who pre-order through Best Buy can receive cheerful Skyward Sword costumes, while pre-ordering through Amazon will grant you some more serious Twilight Princess outfits instead.
GameStop is still offering to send Link and Zelda back to their Nintendo 64 days with costumes based on Ocarina of Time. Club Nintendo members who register the game before October 23 can download special Ocarina of Time and Twilight Princess costumes for Ganondorf.
Hyrule Warriors launches on the Wii U September 26.