Publisher reveals $5 loyalty discount for 3DS and post-release patch plans.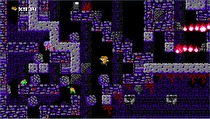 1001 Spikes will come out for both Wii U and 3DS on June 3.
The game will be available via eShop for $14.99 on both systems. However, a loyalty discount of $5 will be applicable to the 3DS version, so those who own other Nicalis titles on that platform--such as VVVVVV, NightSky, Cave Story, Ikachan or Grinsia--will be able to pick up this new title for $9.99.
1001 Spikes' release has been pushed back a few times since its initial announcement in April 2012. Nintendo consoles were noticeably absent on the list of platforms when Nicalis announced earlier this week that the game was finally coming out on June 3, and it turns out this was partially because of a handful of technical issues discovered late in development for those versions of the game.
Left with the option of delaying the game for Nintendo fans or putting it out as-is, Nicalis has elected to release it with assurance from Nintendo that "an update could be issued within a couple of days of release to knock out those bugs." No specific information has been put forth regarding what effect the bugs may have on players' experiences with the game.
Check out our most recent impressions of the game here.