The Xbox Live Indie Game remake is hoping to be out for the Wii U's launch this year.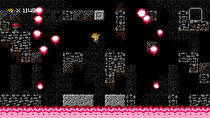 1001 Spikes, a retro-inspired platformer, is coming to 3DS and Wii U's downloadable platforms this year courtesy of Nicalis, according to Nicalis' Tyrone Rodriguez at the Idéame conference last week.
The title is a remake of the Xbox Live Indie Game Aban Hawkins & the 1000 Spikes, which is available on service for $1 if you're interested in checking out. It stars an Indiana Jones-esque character who is trying to save the woman he loves. Along the way, he has to dodge a bunch of spikes (perhaps 1000 of them) and absurdly difficult platforming challenges. The new version will include redesigned art and sound, as well as four-player local multiplayer.
The 3DS version will likely hit the eShop before the Wii U version comes out. Nicalis is hoping to have the Wii U version out for the system's launch, though.