Nintendo is getting ready for the month of Wii U.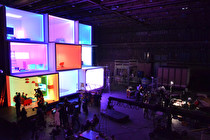 The first Wii U advertisement video is set to be shown later today, November 1. The video will be available on Nintendo of America's Facebook page.
An image, which can be viewed on this page, was teased along with the announcement yesterday. The picture appears to reveal nine different living room settings in which it can be assumed either an individual or a family will be playing the Wii U during the ad.
Two weeks ago the first advertisement was aired in the United Kingdom, which highlighted features of the system such as off screen play and asymmetric gameplay. Whether this North American ad will show off these abilities is currently unknown.
The Wii U will release across North America on November 18.
Update: You can see the new video below!