Two great 3DS Virtual Console offerings make this week one of the best yet.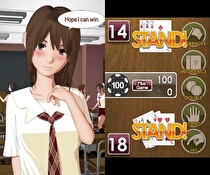 Nintendo's 8-Bit Summer is still going strong. This week we have double the fun with several offerings for the 3DS eShop, Nintendo DSi Shop, WiiWare, and Wii Virtual Console.
3DS eShop Games:
Johnny Kung Fu - $5.99
Take up arms against the evil Mr. Wang and his gang of miscreants in order to save your kidnapped girlfriend, in UFO Interactive's latest action adventure title for the 3DS. If the plot sounds reminiscent of earlier video games, it should. Johnny Kung Fu incorporates numerous mechanics from video games' golden age. Check out Neal's review for a more in depth look.
Sweet Memories: Black Jack- $3.99
Dating sims are few and far between in the west, yet Circle Entertainment's latest title should satiate those yearning to form relationships with virtual girls. However, in Sweet Memories: Black Jack, instead of answering countless questions to woo your preferred lady, you win her heart by playing a game of Black Jack.
DSiWare Games:
Candle Route - $1.99
Play as Sparky the flame, and light candles to bring light back to Crayon Castle in over 100 levels of puzzling fun. But make sure you do it before nightfall, or it's game over.
Ace Mathician - $1.99
In Ace Mathician, you use mathematical formulas in order to create platforms to help Ace the koala collect fruit. In this unique platformer, there are no wrong answers, so try to be creative.
WiiWare Games:
Frogger: Hyper Arcade Edition - 700 Wii Points
Frogger's back with Frogger: Hyper Arcade Edition. In the game you can enjoy Frogger's glory days, as well as several all new game modes, such as Battle Royale, Tile Capture, and Freak Out.
3DS Virtual Console Games:
Kirby's Pinball Land - $3.99
Take control of Kirby in yet another arcade inspired spinoff. This time Kirby transforms into a pinball to brave dangers in one of three Kirby themed tables.
The Sword of Hope II - $2.99
In this 1996 RPG, you take control of Prince Theo and his friends in order to defeat the mysterious nemesis threatening the kingdom. Similar to the Dragon Quest series, The Sword of Hope II uses a simple turn-based battle system that utilizes static sprites to represent the game's enemies.
Wii Virtual Console Games:
The King of Fighters '96 - 900 Wii Points
The third installment to the popular King of Fighters series, The King of Fighters '96 adds numerous changes to series mechanics. Like it predecessors that are also available on the Wii Virtual Console, it also supports 2 player multiplayer.
eShop Sales:
Mighty Switch Force! - $2.99
Continuing Nintendo's weekend eShop sales, Mighty Switch Force!, the popular WayForward action title is now on sale for $2.99. That's 3 dollars off the game's original price of $5.99. To see if it's worth the price, you can check out Zach Miller's review of the title here.