You can expect tons more actual songs than what was found in the Mario collection soundtrack.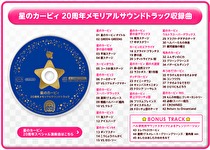 Hoshi no Kirby 20 Shūnen Special Collection (Kirby's Dream Collection: Special Edition) for Wii will include a 45-track CD on the included Memorial Soundtrack packaged with the game in Japan. The tracks are all taken from 16 separate Kirby games as well as three additional tracks recorded specifically for the 20th anniversary soundtrack. Tracks are from the following Kirby titles:
Kirby's Dream Land
Kirby's Adventure
Kirby's Dream Land 2
Kirby's Dream Course
Kirby Super Star
Kirby's Dream Land 3
Kirby 64: The Crystal Shards
Kirby's Nightmare in Dream Land
Kirby's Air Ride
Kirby & The Amazing Mirror
Kirby's Canvas Curse
Kirby: Squeak Squad
Kirby Super Star Ultra
Kirby's Epic Yarn
Kirby Mass Attack
Kirby's Return to Dream Land
Kirby's Dream Collection: Special Edition launches in Japan on July 19, retailing for 3,800 yen. The collection will hit North America on September 16. You can check out a sneak peak at one of the bonus tracks below.