That pin collection won't redeem itself!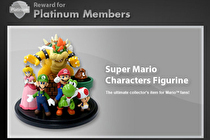 Today, June 30, is the last day to earn Platinum or Gold status on Club Nintendo in North America.
In previous years, getting a set number of coins within the year could net users items like calendars, a Super Mario Bros. statue, or a pin collection. To get gold status (which gets users a smaller item like a calendar), users need to earn 300 coins in a given year. To get the larger reward, 600 coins need to be earned. Rewards will be announced at a later date.
Any coins earned can still be spent, so one is not forced to maintain 600 coins in his or her account so long as 600 coins were earned during the year. However, coins expire after two years, so any coins earned prior to July 1, 2010 will disappear if not used by today. Counters for these values are found on the Club Nintendo website.
Lastly, it should be noted that larger Club Nintendo changes are going into effect tomorrow. Coins offered for surveys will change. For instance, Nintendo Selects titles will drop in value from 50 coins to 20 coins, 3DS post-play surveys will reduce from 20 coins to 10, and more.
The deadline is midnight Pacific Time, but Club Nintendo users are urged not to wait until the last minute since the increased server load may make registration difficult as the deadline approaches.