The upcoming game update will also feature a quick-retry button and make the 3D better.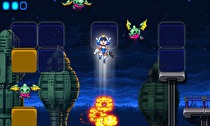 Mighty Switch Force will be adding five free levels, according to Nintendo Power.
The content will be delivered in a game update that will also enhance the game's 3D effect and add a quick-retry button. The game, WayForward's first for the eShop, came out in December 2011 and snuck into our Favorite 10 Games of 2011 list.
There is no word on when exactly the new levels will be released. We've contacted WayForward and will let you know as soon as we hear from them.