The Atari and n-Space joint should only see a two-month delay.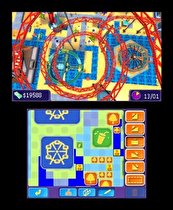 RollerCoaster Tycoon 3D appears to be set for a May 22 release, according to various retailers, including Amazon.
Earlier this week, we reported that the game was on hold, as it was previously set for a March 2012 release. While we haven't gotten an official word from Atari yet, this retailer release date does add up to the previous news of a delay.
n-Space confirmed on Facebook yesterday that the game is complete, so the delay to May was an Atari decision. Additionally, the game is approved for release by Nintendo of America. It is still waiting for approval from Europe.